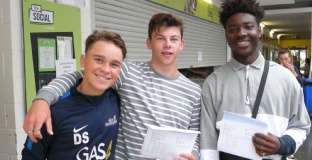 St Wilfrid's Celebrate Fantastic Progress
St Wilfrid's students have achieved some exemplary results this year with a high number of students making excellent progress.

At St Wilfrid's we remain committed to ensuring that every child is given the opportunity to maximise their progress across a broad and balanced curriculum. As such we work hard to create a curriculum which allows students to access courses that meet their needs and allow them to excel in subjects in which they are passionate about.
Mr Ferry, Headteacher, commented "I am immensely proud of the achievements of all of our students. They have worked extremely hard, as have the teachers who have supported them. Both students and staff have had to cope with significant changes to a high number of exam specifications over the last two years and they have done so with excellent effect, reinforcing the fact that students at St Wilfrid's continue to make excellent progress".
The highest performing students with regard to the progress they have made are:
1. Angela Kintu
2. Mekha Justin
3. Jasper Hawkes
4. Dominic Smith
5. Rory Nash
6. Amy O'Connor
7. Katie Hind
8. Alexandra Moore
9. Alexander Marshall
10. Fiona Kagiri
We have also had some stand out performances from students who have achieved 8 or more Grade 7s or better (A*/A equivalent) including Chinazo Okeke, Rushil Patel, Alex Thorogood, Mekha Justin, Samantha Black, Rory Nash, Henry Olding, Cristian Viteritti, Monica Intelligenza, Jonathan Fines and Ceara Mitchell.
This year also sees the introduction of the new numeric system for the majority of subjects (English and Maths experienced this last year for the first time). To gain one Grade 9 is exceptional but to gain 8 is absolutely phenomenal, congratulations therefore must go to Chinazo Okeke for this amazing feat. Rushil Patel came a close second with six, with Alex Thorogood close behind with four, both amazing in their own right with many others, including some of those already named, achieving at least one.
Congratulations to all of our students, we wish them well as they move into the next phase of their education or training.