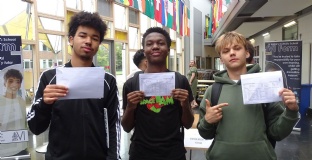 St Wilfrid's Celebrate GCSE Results
St Wilfrid's students have achieved some excellent results this year with a high number of students achieving at least one Grade 9. At St Wilfrid's we remain committed to ensuring that every child is given the opportunity to maximise their progress across a broad and balanced curriculum. As such we work hard to create a curriculum which allows students to access courses that meet their needs and allow them to excel in subjects in which they are passionate about.
Mr Ferry, Headteacher, comments "We are seeing a lot of happy faces this morning and I am immensely proud of all of our students. The last three years have had a significant impact on every student in Year 11, not just at St Wilfrid's but across the country. Today, our students are receiving some fantastic results which are reflective of the sheer hard work they have put in despite the impact of the pandemic and the changes to their education, as well as to society as a whole. They have had a lot to put up with and it certainly hasn't been easy, but make no mistake, the grades they are receiving today have been really hard earned and they deserve every credit".
There were some stand out performances from students who have achieved 7 or more Grade 7s or better (the old A*/A equivalent), these are: Aiden Erickson, Sebastian Gilera, Weronika Gomolka, Daniel Ojok, Ana Marie Tre' Abreu, Mae Charman, Scarlett Confiac, Kyan Upton, Antonina Frankowska Kerr, Hamza Najam, Mustafa Alhadad, William Colbran, Anna Helicka, Jiya Patel and Sophie Wells.
To gain one Grade 9 is exceptional but to gain more than one is absolutely phenomenal, congratulations therefore must go to the following students for their amazing performances (no. grade 9s in brackets): Aiden Erickson (5), Sebastian Gilera (8), Weronika Gomolka (2), David Ojok (4), Ana Marie Tre' Abreu (1), Mae Charman (8), Scarlett Confiac (2), Kyan Upton (3), Hamza Najam (1), Mustafa Alhadad (2), William Colbran (6), Anna Helicka (3), Sophie Wells (1), Olivia Faragalla (1), Lewis Maunder (2), Phoebe Oatham-Bullock (1), Maria Kintu (2), Erin Millard (1), Kate O'Mara (1) and Ovidiu Mihai (1).
Congratulations to all of our students, we wish them well as they move into the next phase of their education or training. As they move on to the next chapter of their lives it is important that they remember that no matter what grades they have received, they are not defined by them; each and every young person has much to offer and we wish them every success and happiness.
The Headteachers locally have agreed to share the successes of students rather than statistics as this is a day to celebrate individual successes of which there are many across all of the schools in Crawley.