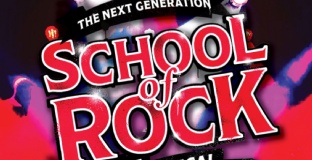 "WE SHALL TEACH ROCK 'N' ROLL TO THE WORLD!"
Tickets are now on sale for St Wilfrid's version of Andrew Lloyd Webber's award-winning smash hit musical, School of Rock will go on sale. Based on the hilarious hit movie, this new musical follows wannabe rock star Dewey Finn who is cast out by his 5 'dive‐bar' bandmates and finds himself in desperate need of cash. Posing as a substitute music teacher at an elite prep school, he exposes his students to the rock gods he idolises, transforming them into a mind‐blowing rock band. While teaching these pint‐sized prodigies what it means to truly rock out, Dewey falls for the school's beautiful, but uptight headmistress, Miss Mullins, helping her rediscover the wild child within. But, will they all find redemption at the battle of the bands?
Well known songs such as 'If Only You Would Listen', 'Stick it to the Man' and 'School of Rock' are sung beautifully by the cast with a number of punchy, energetic dance routines which will make this a show to remember. The production involves students from every year group, with over 80 students involved on stage and dozens more behind the scenes including a live band.

The show will run over four nights from Wednesday 22nd until Saturday 25th February, starting at 7.00pm on the Wednesday-Friday and at 5pm on Saturday. Tickets are priced at £6 and are available via ParentPay. Alternatively, if you have friends and family without ParentPay who would like to purchase tickets, they can do so at their request via email to boxoffice@stwilfrids.com which enables them to pay online.
If you require a wheelchair space or have any other specific requirements with regard to seating, please email boxoffice@stwilfrids.comdirectly alongside purchasing your tickets via ParentPay so that your party may be allocated a suitable space in the hall.
Programmes will be available to purchase on the night and a licensed bar will be running where we are now able to take card payments.
We look forward to welcoming you to this year's school production, it's going to rock!