A Midsummer Night's Dream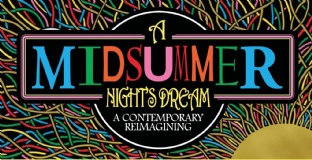 St Wilfrid's is delighted to announce their school production of A Midsummer Night's Dream which will be brought to life in a spectacular, contemporary style with a Glastonbury Festival themed twist, with contemporary songs and dances throughout the show.
Bizarre and strange occurrences involving a group of young lovers, a bunch of terrible actors, a fairy king and queen and the King and Queen of Athens all take place over one strange night. Did they really happen or was it all a dream…?? Music from Ed Sheeran, Taylor Swift, Beyonce, Coldplay and Blur will be sung alongside Shakespeare's original verse, with energetic dance routines from the fairies and sprites mixed in, celebrating the thing that has kept us all together and helped us through these last difficult two years: love!
The student cast and crew consists of over 100 students and there is a double role casting to enable more of our students to share their talents on stage. We have Emie Sarmiento and Michaela Daniels as Titania, Will Berry as Oberon, Natalia Krupa and Alexa Richardson as Hermia, Kate O'Mara and Molly Mitchell as Helena, Kyan Upton and Ewan Sparks as Lysander and Kiran Trivedi and Eoin Baldwin as Demetrius, Scarlett Confiac and Jake Thorn as Bottom. There is also a live band made up of students and staff.
This year's production promises to bring our famous school productions back with a bang so make sure you get your tickets soon to avoid disappointment. Tickets will go on sale on Monday 24 January 2022. The production will run over four nights from Wednesday 2nd March to Friday 4th March starting at 1900hrs and Saturday 5th March 2022 starting at 1700hrs. Tickets are priced at £7 for adults and £5 for concessions and are available via ParentPay or by contacting boxoffice@stwilfrids.com or by calling 01293 421421.